Congratulations to Team 2 and Team 3 for winning the species categories. Each team will receive a commemorative cap and gift certificate for their titles.
Team 3 is also the Overall Team Champion for having the longest single fish from each of the three species. The Team Champions will have their names engraved on the Challenge Plaque.
As luck would have it, Nelson Valles'
ticket was drawn from the bait bucket for the St. Croix Mojo Surf Rod! A fitting tribute indeed.
Mike Lynch submitted the best photo to take the Photo Contest $25 prize.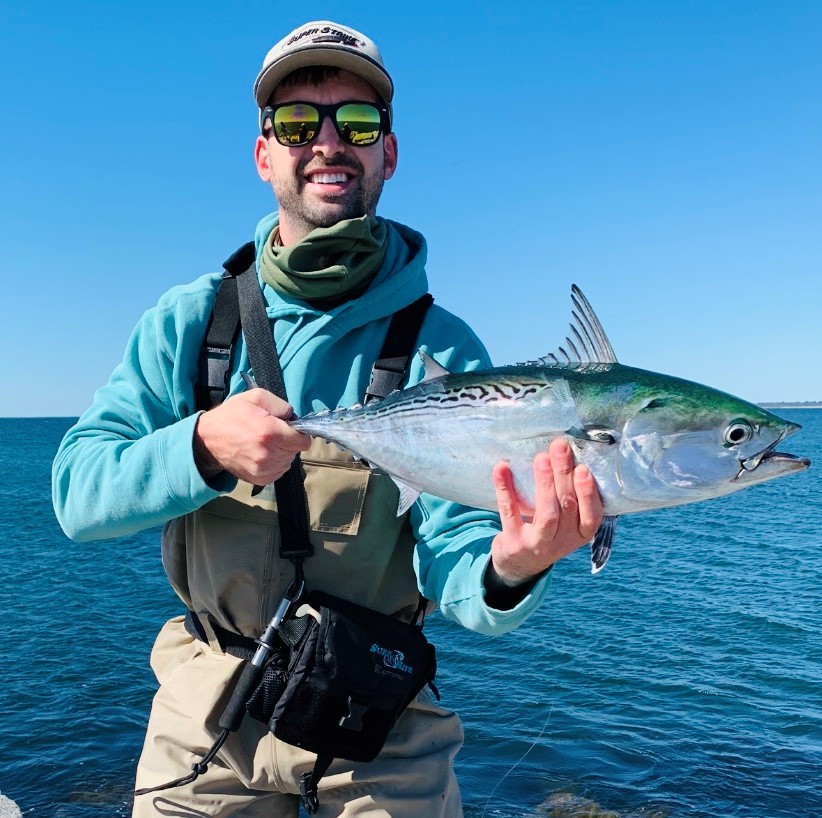 Thanks to all the members who participated to help make the Nelson Valles Four-Member Challenge a success. Kudos to Joe Coppola, Dave Morton, and Tournament Coordinator Richie Reich for all their efforts in planning and executing the Challenge, Way to go to all involved!
All Tee shirt and cap winners will be contacted on how to receive their prizes.
Teams & Results
Species winners determined by total length of each species.
Shown in red.
Team

Member
Striped
Bass
Bluefish
False
Albacore
1
Joe Coppola
Nelson Valles
Kevin Stone
Eugene Spring
32, 30, 30
22, 20, 17

2

Glenn St. Germain
Dick Geldard
Buzz Vickers
Rich Heffernan
36, 35, 31.5
22, 22, 22

3

Mike Tilelli
Mike Lynch
Tom McGuire
Victor Cardoso
26, 25.5, 25.5
21.5, 20, 14
26, 26, 26
4
Jim Timpano
Kieran McGlynn
Marty Wencek
Chip Bowlby
31, 30, 29
24, 21, 20
5
Dave Morton
Kevin Barrios
Ray Marshak
Bob Vallee
6
Dick Durand
Mike Rogers
Ron Lynch
Dan Walter
32, 29, 28
12
7
Bruce Bain
Rich Clarke
Al Williams
Bob Grillo
27, 26, 26
21, 18
0
Richie Reich
27, 16, 15
Note: Lengths above are per team, not individual
Overall team winner determined by total length of largest single fish from each species
Team Champion
Member
Striped Bass
Bluefish
False Albacore
Total Length

Team 3

Mike Tilelli
Mike Lynch
Tom McGuire
Victor Cardosa
26
21.5
26

73.5