---
Past Events
---
January 2022 Meeting
Our first meeting of the 2022 was met with light attendance but all the usual suspects were on-hand to watch the movie Running The Coast by Jamie Howard. Plenty of pizza, popcorn, and snacks were available to make this laid-back meeting a true Movie Night. We had a brief session of club matters and then got on with the customary raffle of tackle and lures, some of which were custom-turned beauties by Surf Day participants, RD Customs and Gremlin Lures.
*
See the Surf Day 2022 page for a gallery of pictures of this fun event
---
February, March, and April 2021 Meetings
Went went virtual, really! That's right, starting in February of this year we started having virtual sessions in place of face-to-face meetings at the Community Center. Admittedly, it took us a while to get there, but we caught up to the rest of the world and were able to have two great monthly meetings held over the internet. We covered such topics as:
Updates on membership news items

Dues collection status
Welcome to new members
Announcements on the latest prospective members

Announcement of the Narrow River Rods surf rod raffle at $10 a chance
Seminar on Safety in the Surf by member Richie Reich
Review of the 2021 tournaments by Mike Lynch
Announcement of the Club gear sale for members
Important news of upcoming events
February 2020 Meeting
Veteran surfcaster and author Janet Messineo shared her experiences of a woman fishing in the dark alone, driven by a desire to be with nature and to hunt the elusive striped bass. Janet hails out of Martha's Vineyard and has participated in the Vineyard's famous Derby for many decades and is also the past president of the Martha's Vineyard Surfcasters Association. Her autobiography, Casting Into The Light was recently published by The Penguin Press and she personalized books that were purchased by club members. Janet had several of the new eco-friendly PoomBah plugs on display and generously donated a custom Charlie Cinto plug and a tire deflator kit for our April raffle – a very nice gesture.
Surf Day 2020
Our 7th Annual Surf Day new and used tackle sale was held on Saturday the 8th of February. And this year had both salt and fresh water gear. Surf Day has grown every year and this year was no exception. What a pleasure it is for the Club to see the room filled with fisherfolk selling and shopping, milling around and enjoying some of our home-cooked food. Thanks you all for supporting Surf Day and the charitable activities it, in turn, supports. Be sure to visit this site for news and pictures of our Earth Day Clean-up, Kids Fishing Day, and our 2nd Veterans Fishing Day.
January Meeting
We kicked off 2020 with a very special guest. Maria Harvey of the Marine Animal Entanglement Response Team presented a lecture on their work and the techniques it has developed to free large whales from the lines and nets that envelope them. Ms. Harvey brought several examples of the equipment they employ to remove the lines from both whales and large turtles. Her presentation also included videos clips of several rescues. MAERs is based in Provincetown, Massachusetts and flies to disentangle animals from Maine down to the mid-Atlantic Ocean.
Christmas Banquet
We finalized a great year of activities with our annual Christmas Banquet at The Spain Restaurant in Narragansett at 6 PM, Tuesday, December 17th.
Happy Hour was filled with good cheer, friendship, and many almost-true fishing stories. As always, Spain was up to its usual excellence by serving a wonderful buffet dinner followed by a nice selection of delectable desserts.
But the superlatives of the evening didn't stop there. No way! Tumble master Al and his little elf Glenn spun, mixed, picked, and called out dozens of tickets for our spectacular raffle. Lucky winners took home rods by G Loomis and Temple Fork; reels by Shimano, Penn, and Tsunami; dozens of tackle items; surf bags, and more. There was even a custom door prize tied by elf Richie.
A gallery of photos of the Banquet will soon be hung in the Member Activities area of the website.
November Meeting
This month's speaker was member Dave Morton who spoke on reel maintenance. Dave offered plenty of tips on the best way to prepare and store your fishing reels for the off-season. On the big screen were several examples of what your gear could look like if Dave's advice isn't put into practice. Dave advice: Don't let this guy be you!
After the lecture new officers were elected and are now listed on the About Us page. We topped off our usual raffle by offering the fine 9 foot Tsunami Trophy II surf rod that was graciously donated by John MacDuff. A very happy Jim Dunphy took the top prize! Congrats, Jim.
October Meeting
Our October meeting featured Gil Bell's presentation on surf casting along Rhode Island's South County beaches using big plugs and lures for big striped bass. Gil spoke of several areas many of us are acquainted with, including East Beach, Fire District Beach, and the Weekapaug area. On display were several of Gil's plugs and lures, showing his alternative rigging methods and enhancements.
Four Man Team Tournament was won by Glenn St. Germain, Dick Durand, Bob Grillo, and Chuck Gricus. Congratulations guys!
September Cookout
We concluded the 2019 summer cookout series with one last event at Snug Harbor Marina on a beautiful September evening,
The special Tsunami Combination raffle was won by Mike Rogers at the September cookout. It was our fourth cookout down at Snug Harbor Marina as we wrapped up the summer with another great event. Big thanks to all the Club members who worked hard to bring you these wonderful cookouts. They exceed expectations every time.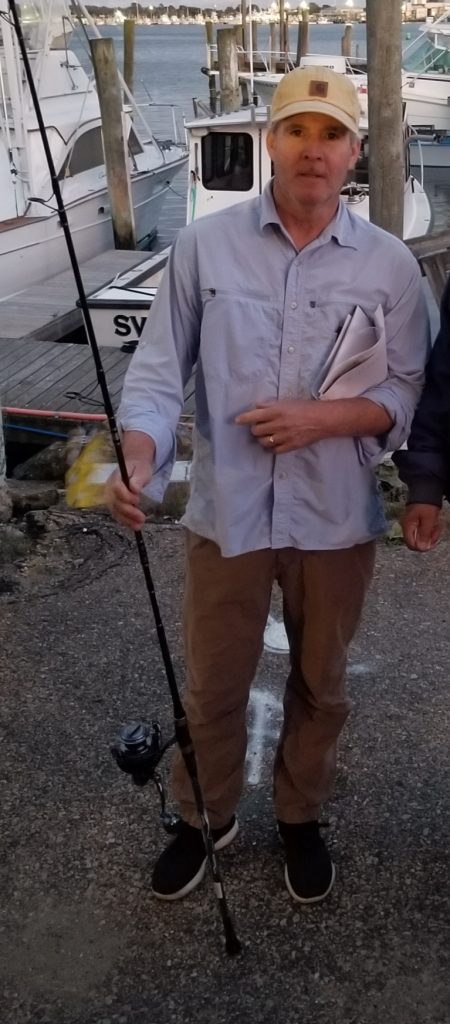 Veterans Fishing Day
A full description and picture gallery of the event can be found on the Member Activities page
August Cookout
We had another good turnout of members for this month's cookout at Snug Harbor Marina. Plenty of fresh little necks were shucked and the shrimp, boiled up by El Presidente himself, were over-the-top tasty! The grill was fired up at 6 and Glenn immediately had twenty of his best friends lined up for sausages, burgers and dogs. Tickets for the Tsunami special raffle were going as hot as Glenn's grill too, so next month be sure to buy a ticket before the combo winner is chosen.
July Cookout
Our July cookout fired off under pleasant skies and calm weather. Grillmaster Glenn was a sight to behold as he cranked out the burgers, sausage, and hot dogs for his hungry customers. A special treat this month was provided by Ray with his oh-so-creamy and delectable New England clam chowder. But Joe was not to be outdone and was hard at work meeting the demand for his steaming hot clam cakes, the perfect complement to Ray's fine chowder. The evening's meal was topped off with cookies and our usual tackle raffle that also had member-donated items in it. And Mike showed us that a fishing club should, well, fish by landing a healthy striper off the dock.
June Cookout
Despite the rain and chilly weather over thirty Surfcasters turned out for the first cookout of the summer. Members were treated to a delicious spread of fresh cherrystones, sausage with peppers and onions, grilled meats, salads, chips and cookies. Wow! Grillmaster Glenn was dry and comfy as he grilled under a pop-up canopy that held plenty of kibbutzers to make sure everything was cooked just right. The raffle table held the usual array of items, plus several member-donated additions. Thanks to those who chipped in. See you next month.
Spring Surf Fishing Tournament
The Narragansett Surfcasters participated in the RISAA Spring Surf Fishing Club Challenge this year. It is an inter-club tournament that had eight clubs vying for the championship. Fishing took place over the weekend of June 7 – 9. Several Club members attended the Fisherman's Breakfast on Sunday morning at the Andrea Bar in Misquamicut. It was a great time and there was a super raffle. All proceeds of this annual event benefited The Jonnycake Center of Peace Dale.
May Meeting
Our May Hook, Line, and Sinker Night took place on May 21st. The Club had various sizes of treble hooks on hand for members to replace their dull and rusted hooks Members brought two or three of their favorite plugs to the meeting where tools, VMC 4 hooks, and quality split rings were available to all.
The evening's highlight was the showing of Nelson Valles' movie on striped bass fishing in our area from the 1960s to 2000. The movie featured old photos from his archive and interviews of past and present Narragansett Pier Sportsfishing Club members who shared their experiences of the "early days". If you missed it, you can lend it from the Peace Dale Library.
Nelson has recently turned his camera to some of today's Surfcasters who are featured in his latest work that can be seen here.
Kid's Fishing Day
Club members and their families attended our annual Kid's Fishing Day. This fun and rewarding event was held at the Carolina Trout Hatchery, our usual location. Each young participant received a special gift and there were awards for the three largest trout caught. There was also a prize for the largest golden trout caught this year. See the Member Activities page for the photo album of the event.
The Awards Banquet
The Narragansett Surfcasters held its annual Awards Banquet at the Spain Restaurant in Narragansett on April 9th. A lively group of fifty members turned out for the big event and while enjoying the happy hour, they ogled the raffle table goodies and stocked up on raffle tickets.
We began the evening with a respectful moment of silence for Mary Dangelo, Jim Gallagher, and Craig Champlin, three long-time members of the Club who passed away over the last year.
A wonderful dinner was served by the Spain's gentlemanly staff. And what a meal it was, consisting of clams casino, calamari, fresh salad greens, Spanish rice, roast pork and potatoes, chicken and vegetables, sautéed shrimp. Who could ask for more? Then came a selection of tasty desserts!

The awards portion of the evening was kicked off by Dick Durand who honored Cliff Richer for his years of unwavering commitment and dedicated service to the Club. Cliff received a well-deserved gift certificate to one of his favorite shops, the Bear's Den.
Also recognized were Joe Coppola for his outstanding Surf Day contributions, Chip Bowlby for schlepping his bins of Surfcasters merchandise to every meeting, and to John MacDuff for his many equipment donations to our raffles. Thank you, guys.

What would our awards affairs be without the presentation of the Largest Striper and Bluefish awards? Well, you may have already guessed that Ed Sousa took both top honors. Again! Ed will hold the big trophy for yet another year and was also presented with a Surfcasters hoodie and the pick of the raffle table tackle for his big fish. Way to go, Ed! We all vowed to step up and give you a run for your money this year.

Raffle Time! Al Williams and John MacDuff were very busy hawking the raffle tickets and were just barely able to keep up with the demand but no one went away without their share of tickets. The raffle table held over forty tackle items, four surf bags, three reels, four rods, and a special $150 Snug Harbor gift certificate. Not too shabby.

We wrapped up the proceedings with drawings for a door prize gift certificate to Quaker Lane Outfitters and the special fly fishing rod and reel combination we put together of a Van Staal reel and LL Bean rod. And it's a good thing John Miller drove down from Massachusetts that night to join us because he grabbed the goods! And went home a happy fisherman, no doubt.
If you haven't seen the photos of the festivities posted on the Home page, just click here.