What a wonderful time of the year this is when we all seem to be enjoying ourselves – and each other – more, despite the usual rush of getting things done, oftentimes at the very last minute. We see Christmas trees and homes decorated in merry fashion, lighted wreaths, store windows bedecked with ornaments,
and even the occasional Santa.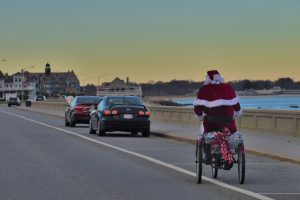 So take a moment to wish others a heartfelt Merry Christmas and a Happy New Year when you see them because this special season is all too fleeting.
I would also like to take a moment to reflect back on this past fishing season in Rhode Island, where the beauty and bounty of nature have come together to provide us all so much enjoyment. I cherish the sunrises and sunsets we've shared, the storms we've braved, the friendships we've made, and look forward to doing it all over again next year. And I'm beginning to understand why the stripers migrate south: it's not so much to spawn as it is to get away from us crazed fishermen!
So again, let's all enjoy the season and each other. Be safe, and fish hard.